The Future of British Brewing
Try them at the EeBria Taproom
The Future of British Brewing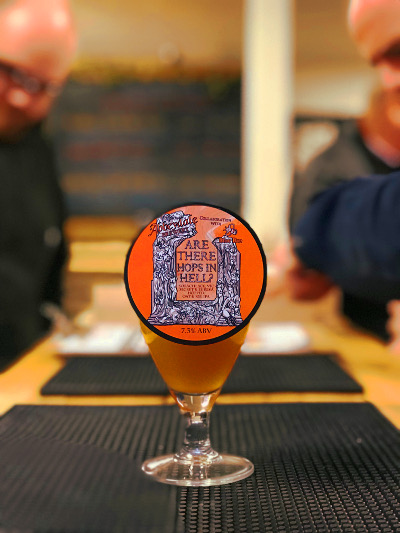 Cloudwater, Verdant, Deya, Odyssey, Buxton, Tiny Rebel, Wild Beer Co… A list of the most highly recognizable and well regarded names in the UK craft beer market nowadays. But sometimes we need to remember, that before Verdant climbed to the top of Untappd's list of Best Breweries in England, they also started as a small local brewery and only extended their capacity when they'd made a name for themselves and needed to keep up with the incredible demand.
For our next trade event, happening on the 20th November from 5pm at the EeBria taproom in Bermondsey, London, we've decided to focus on six excellent craft breweries who could well be the "next big thing" in the craft beer world. Our picks to watch out for are all making exceptional beer and we think it's only a matter of time before they also start to see an explosion in their popularity, when the rest of the UK catches on. Abbeydale, Lost+Found A.BL, Staggeringly Good, Wild Horse, Burning Soul and Black Flag will all be featured, and we want you to try their beers and see for yourself why we've got them pegged for the big time.
Abbeydale
Based in Sheffield, they have a solid core range in cask but have gradually started experimenting with less traditional recipes, also kegging their new range too. "Cask beers are our bread and butter, which allows us to experiment with new things. We try to stay on top of the industry trends and we've seen that the US market is getting bored of insanely hopped IPAs and we think they want to see more reasonably hopped keg beer, with interesting ingredients. I think this is probably the next trend around here and one we're looking at taking advantage of", says Dan Baxter, sales director of the brewery.
Within their walls, Abbeydale brewers create cool recipes like Salvation - Coffee & Doughnut Stout, brewed with real doughnuts, and Wanderer 2 - Gooseberry Saison, to name just a few. "The next beer we're going to brew is the first of our Christmas beers and it's called Advent, a 4.6% Pale. Plus, we have a signature beer range where all employees have the chance to brew their own beer. Mine, for example, was a salted caramel peanut stout". They also haven't covered the Lager style yet, so plans are to brew one of those soon and reach Lager drinkers as well.
Black Flag
Brewing in Cornwall, Black Flag brings some of the most interesting and easy drinking Pale Ales and IPAs in the market today. Named after the Cornish flag which is a black flag with a white cross (also the name of one of their beers), some of their personal favourite styles are actually classic Belgian beers as well as big fruity IPAs: "Our favourite beers change regularly in truth, and at the moment we are brewing a lot of double dry hopped Pales, it's fun experimenting with different hop combinations. The plans for the future are to experiment with more and more yeast strains, both Belgian and British", says Ben Sales, who runs the brewery with his brother Nick.
When asked about the conditions for growth in the beer industry, Ben is clear and incisive: "I think it's great that there are so many interesting breweries about at the moment, however it is hard to see how the growth can continue unless there is a real change in the UK market. In our region, tied pubs and greedy regional breweries have left small breweries with very little space so the National market we can access with EeBriaTrade is so important for us."
Burning Soul
Winners of the "Thirsty Games 2017" at Indy Man Beer Con festival in Manchester, Burning Soul (which name simply reflects the brewers' passion chasing down what they actually wanted to do which is brew great beer) is from Birmingham. They were home brewers for many years with dreams of opening their own brewery, which finally happened in 2016 - only one year before winning the competition!
Richard Murphy and Christopher Small run the brewery and Rich gave us a few more tips about their plans and preferences: "Our favourite beers are the Belgian IPA and Coconut Porter, both are big, full flavoured beers at opposite ends of the spectrum. The Belgian is a citrus blend of American hops and the fruity esters from the Belgian yeast and the Coconut Porter is a rich luxurious bounty bar of a Porter. The next beer we're brewing is actually our first collab beer with Odyssey and Glasshouse. We're going to be brewing a Sorachi Ace Stout and an IPA with Ekuanot Simcoe and Sorachi Ace the plan is so that they can tie in together as a black and tan".
When asked about future plans, Rich says "it's about to just keep doing what we're doing and experimenting with our beers we put on the tap room so we can come up with lots of new exciting recipes for scaling up and keep learning, hopefully we will get a few extra tanks next year too and up our production a little and get some more oak casks we would love to get lots more barrel ageing going".
About being mentioned as a representant of the "Future of British Brewing", they say "it feels like there are so many amazing beers out there with no signs of stopping. It should keep it fresh and innovative and make the future pretty exciting. We're just honoured to be part of it, it really chuffed with what we have achieved in our first year and seriously happy with the reception our beers have been getting".
Lost+Found A.BL
Cutting edge artwork and excellent hoppy beers sounds like a very good combination and that's what the great people at Lost+Found do - and a lot more. According to Chris Angelkov, "the search is far from over, there's still plenty out there to find, that's for sure". Currently ranking as 8th Best Brewery in England on Untappd, L+F have among their most interesting beers the IPA R2 / C-The Man Go, a 5.6% IPA brewed with mangoes and oats: "The interesting aspect to the IPA is the use of mangoes as an extension to the hop profile. We didn't want to make a novelty beer packed with fruit juice that tastes like a Walls Solero in a glass. It was about building a tropical hop profile that we could layer upon, round out and add complexity to. We didn't want to overpower the beer with something that is going to fight against the typical profile of the style - big hop character and assertive bitterness. We wanted subtlety, and we think we have found the fine line as some people say it has a lot of mango qualities while others say it has none. But then we see nothing wrong with being divisive".
Brewing at full capacity and with their beers conquering further space in bottle shops' shelves and pubs taps, the brewers have some great plans for new styles they haven't put out yet, such as Kettle Sours and Imperial Stouts: "The plan is to barrel age some of the latter and release some in bottles at both 330ml and 750ml specials of which we have a few tricks up our sleeves for Alongside this we are continually upgrading the brewhouse, the processes we employ and our own learning and development in order to take both the quality and the conceptual aspect of the beer as far forward as we possibly can.
With a lot of plans and hopes, it's nice to mention how it all started with a tale about the brewery name's choice: "We had a few ideas for names during the inception of the brewery. But it came to us at the point of actually deciding to break from our existing careers and jump into full time commercial brewing. It dawned on us that we had just lost our mortgage paying jobs, and the security that came with them. This was somewhat daunting for sure, but in doing so we had found our passion and were about to realise it, which overpowered any trepidation we may have felt. We liked the name and its succinct representation of our story".
Staggeringly Good
Staggeringly Good are from Southsea, Portsmouth and have some epic branding with their Dinosaur themed beer names and artwork. The most popular ones are probably their American IPA 'VelociRapture' (which we're showcasing in our trade event), a hoppy West Coast style IPA with a big piney, resinous character and a decent dose of bitterness to balance the strong malt profile; and also the StaggerSaurus, their flagship session IPA brewed with Mosaic and Chinook hops.
But there's new stuff happening at their HQ as well: "We're about to can a new table beer at 3.2% and 40kg of hops in a 10BBL batch, hopped well above its weight. It's like a T-Rex I suppose, little arms, big ambitions! Then we've also got a collaboration with Arundel Brewery called Knight Ryeder, a 6.0% Rye Ale and a massive Ekuanot single hop DIPA called Ekuanodon coming out in early Dec. Lots going on basically. We also launch a new beer in our taproom every week which always keeps us on our toes. Aside from that I'm excited to do an upscaled version of our Champagne Saison a pilot batch of which went down amazingly well", tells us Joe Ross, one of the brewers and directors of the brewery.
About the Future of British Brewing and the way the industry is going, Joe says it's an exciting time to be part of it and the growth of various breweries defy predictions of a saturation point. A direct result of their success is new plans of upgrading their capacity and equipment and continue pushing the limits of creativeness and quality.
Wild Horse
Founded in March 2015 by Dave and Emma Faragher, Wild horse is a Welsh brewery making high quality unfiltered, unpasteurised beers in the beautiful seaside town of Llandudno. Two years later, they have a solid core range and an ever increasing array of creative small batches called 10 Barrel Series, of which the latest release is a Double IPA which we're offering the chance to try it at our event.
The primary concern and focus of the brewers is sourcing the best ingredients they can get their hands on and also increasingly working with interesting ingredients from premium producers like Baravelli's Artisan Chocolatier of Conwy for their Breakfast Cookies Milk Stout. Collaborations and experimental batches are also part of their range.
The brewery favourite beer at the moment is Red Rye IPA. "It was first released as part of our 10 Barrel Series and we've brought it back this year as our Autumn/Winter seasonal. We love the balance the beer has, with its initial hit of citrus & tropical aromas from the Mosaic & Amarillo late hop and balanced beautifully with the caramel/toffee notes the darker malts bring".
The location chosen by the brewers not long after they moved back to North Wales from Canada in 2014 was an old run-down stables building. After considering many names, with the stables in mind, one name that stood out and they kept returning to was Wild Horse. However, they soon realised that the renovation work needed to turn the old stables into a modern working brewery was too extensive and decided that money would be better spent on state-of-the-art brewing equipment than on rebuilding the stables. With slight heavy hearts they walked away from that location but soon cheered up when they found their fantastic building at Cae Bach in Llandudno. The name, though, was already picked.
"We started from scratch on the name generating but, whilst searching for local landmarks to use as inspiration, we discovered the nearby Carneddau mountain ponies – thought to be the only truly wild horses in the UK. They live on Conwy Mountain and the neighbouring Carneddau mountain range – just a few miles from our brewery. A few days later we went for a walk up Conwy Mountain and couldn't believe our eyes when we saw a herd of beautiful wild horses. And so, at the top of Conwy mountain, the decision was made and Wild Horse Brewing Company was born".
In terms of the future, they're looking to continue establishing themselves in the local market and build on the good work already done in building a reputation as one of North Wales's most dynamic and innovative breweries: "We've got our next few 10 Barrel Series brews planned, which we're really excited about. We're releasing our first DIPA this weekend at the Eebria event, which is a big, bitter West Coast style Double IPA inspired by beers like Pliny the Elder by Russian River. Also in the pipeline are a Mosaic IPA, Munich Dunkel, Session Bitter and a Black IPA. We're always trying to stretch ourselves with the 10 Barrel series so there's usually something for everyone in that range".
When asked about the momentum in the craft beer industry, they believe "British brewing truly is in the best place it's ever been. There are so many excellent breweries out there now and for the consumer, the choice has never been better. We feel like more people are prepared to seek out good beer and are happy to pay the going rate for it. Also, we love sending our beer out to places all over the UK with EebriaTrade. It's just as much of a thrill when we see orders for our beer coming in from micropubs in Burnley or Canterbury as it is getting orders from pubs and bars in places like Leeds or London".
"We're absolutely delighted to be a part of Eebria's Future of British Brewing event and to be rubbing shoulders with some amazing new breweries like Lost + Found & Burning Soul as well as established guys like Abbeydale. We've been lucky enough to enjoy beer from all the breweries involved and believe us when we say we're in excellent company".
The Future of British Brewing is a trade event that hosts six different breweries on Monday 20th November from 5pm until 8pm at the EeBria Taproom on the Bermondsey Beer Mile, showcasing some of the best breweries in the UK with a focus on producers that are rarely seen in London and are hotly tipped to be the next big thing. This is your chance to get ahead of the curve and discover the next generation of sought after breweries that will draw people to your business. All the breweries in attendance will also be offering a 10% discount on their beers for the week after the event. Plus, free beer! Register here.
Get 10% off for a week!