Mad Hatter lands into EeBria Taproom
Discover our newest guest brewery
One of the most innovative breweries in the UK, Mad Hatter is an experimental brewery based in Liverpool. Set up by Gaz Matthews and Sue Starling, Gaz is the head brewer responsible for the brew floor and writing the recipes and Sue takes care of the business side of things. Though they split the brewery tasks, both come up with the ideas for their apparently endless list of new beers.
A whole list of names come in and out of their ever-changing range of 6 beers, as they focus on brewing small batches of beer with often experimental recipes. To name just a few you might have enjoyed, they make Penny Lane Pale, Tzatziki Sour, Fat Stout, Harvest Saison, Liverpool Tart, Manchester Tart, Peach Melba, Toxteth IPA, March Hare and many, many more.
As students they decided to try something different, so with Gaz already a home brewer, they "set up a brewery with £1k and the use of parent's credit cards". Their beerification properly started when they moved to Manchester in 2006. Both Gaz and Sue lived in Chorlton and drank at local pub "The Bar" and The Marble Pub. According to Sue, "the Marble beers and Picton ales were a revelation and shortly after, we visited a friend in London and drank The Kernel beers. We were hooked".
Asked about why the name 'Mad Hatter', Sue replies that they "wanted the name to reflect the mad and experimental beers they wanted to brew, creating a parallel with the historical fact that many years ago hatters went mad due to the use of mercury for making top hats shiny. Also references to Alice in Wonderland allows us also to explore themes of madness in the book (both founders are interested in psychoanalysis). The logo also shows a rabbit coming out of a hat, reflecting the mad beers we conjure up". The brand image also plays an important part, referencing to May 68 street art and 1960s folk band posters.
Mad Hatter has the quite rare talent of pleasing both drinkers looking for the craziest beers available as much as the more "traditional" drinkers looking for "easy" styles like IPAs and Pale Ales, but always with a twist. When asked about their own personal beers: "I like kettle sours, fruit beers and saisons because they're full of flavours and different to a lot of beers generally available", says Sue. "Penny Lane also has a special place in my heart as it's one of our first beers, and was brewed because we lived just off Penny Lane when we started the brewery".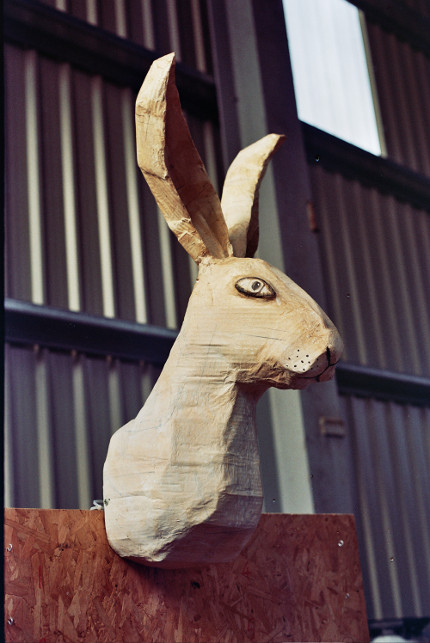 For Gaz, Manchester Tart is one of his greatest achievements "because it's low strength yet full of body plus has a multiple flavour combination as well as balance between raspberry tartness and coconut". The MH's head brewer also loves Liverpool Tart for its salty sourness and Double Nightmare on Bold St. is also a big favourite: "a big hitting rich beer".
Tzatziki Sour is, in Sue's opinion, the craziest beer they ever brewed - and it's delicious as much as experimental: "Our beers are experimental, and this is one of the central principles of Mad Hatter. We are always willing to take risks".
Regarding what's coming up in the future, Mad Hatter has plans of opening a microbrewery taproom rather sooner than later: "We are working on it, though it is more work and time consuming than we originally thought - but it will happen". Canning their beers is also a plan, but resources for a canning line are needed: "So if anyone reading this has a spare £250k, give us a shout", calls Sue.
For Gaz, the next beer he wants to brew is a Sour Pea Pod Summer Fruit, a beer without hops. He's even growing lots of peas and legumes in his allotment. For Sue, on the other hand, it would be brewing something with tea, preferably a nice, light White Tea Gose. Either or both ways, all they want to do is "to keep brewing crazy beer and having a good time".
If you want to try their wares for yourself, the brewery is taking over the taps at the EeBria Taproom on Saturday 1st April between 11 and 5.30pm. Eight different beers are up for grabs, with some of their much loved classics and a few new and crazy beers as well (the Bacon and Banana wheat beer and Tzatziki Sour in particular!).
Alternatively if you're a trade customer then you may be eligible for our free showcasing event on Monday 3rd April at 5pm - 8pm where we'll let you sample the beer and answer any questions about the brewery and how to buy them via our marketplace wholesale site EebriaTrade.
You can register for free tickets here.
Buy Mad Hatter Beers