Scrambler
Rooster's Brewing Co.
Scrambler
Rooster's Brewing Co.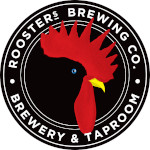 Style:

Pale Ale

ABV:

4% Alc.

Container:

KeyKeg
Connector: KeyKeg

Size:

30 litre(s)
Vegan, Vegetarian
Pumpclip included
Ratebeer: 90/100. Delicate hop flavours are complemented by the addition of fresh watermelon in this crisp, fruity and refreshing pale ale that has a light, bitter finish.
We're crowdfunding!
Click here to find out more
We're crowdfunding! - Click here to find out more